Tips & Tricks
Interior Design Style Guide
Industrial, minimalist, scandi… Do you really know what these are? Whether you are looking for a room update or a complete refurbishment, it can be daunting to decipher your mid-century from your classic furniture, and even harder to define your personal interior design style.
In this guide you will get an understanding about the different decor styles, the most distinctive pieces, its colours palettes and great brands that sell the look.
By the end, you will have a much clearer idea of what your likes and dislikes are, on top of great ideas for your space. Enjoy!
Order, symmetry, balance and proportion are all essential for a classic look. It often portrays a focal point, usually an original fireplace or beautiful art, around which visual balance is achieved.
A love for original features, always elegant and refined, the personification of chic in interior design.
Classic design is characterised by natural complementary colours, elegant fabrics, and natural flooring in wood, stone or marble.
Main adjectives:
Balanced
Elegant
Harmonious
Understated
Materials:
Wood
Marble flooring
Original Fireplaces
Period Details
Colours palettes:
Complementary neutrals
Black & White Chess
Regencial Pastels
Know Brands & Retailers:
________  ❧ ________
Sometimes defined as a perfect combination between function and aesthetics, Scandinavian design pays homage to the way of life of Nordic countries, it is functional, natural and understated, but uncompromising on its level of craftsmanship.
Main adjectives:
Crafted
Functional
Natural
Clean
Materials:
Natural elements like form-pressed wood
Natural fibre throws or furs
Bespoke hand crafted pieces of furniture.
Colours palettes:
Most often seen on a pale and subtle colours
Cold blues & off-whites
Pops of colour it often comes from the use of art, or a single piece of furniture.
Know Brands & Retailers:
________  ❧ ________
Pays homage to the industrial revolution, where machinery, engineered clocks and warehouse lighting take centre stage.
Dangling metal light fixtures in a neutral colour scheme derived from unfinished 'rough' materials like concrete, reclaimed wood, exposed bricks and unpolished steel.
Main adjectives:
Rough
Energetic
Masculine
Unfinished
Materials:
Concrete
All kinds of Metals
Scaffolding Planks
Steel Meshes
Colours Palettes:
Greys and Blacks
Muted browns
Know Brands & Retailers:
________  ❧ ________
Offers a highly purified form of beauty, defined by a sense of functionality and ultra-clean lines.
Colour palettes are neutral and most often cold, furnishings are simple and streamlined, nothing is excessive or flamboyant in furniture or even accessories.
Main adjectives:
Pure
Understated
Masculine
Cold
Clean
Materials:
Glossy and shine surfaces
Unpatterned titles and flooring
Colours palettes:
Most often monochromatic
Usually all white or all black
Greys & neutrals
Super plain colours
Know Brands & Retailers:
________  ❧ ________
Inspired by nature, uses earthy primitive materials, like stone, lime render and terracotta.
Ideal for a farmhouse or a barn, vaulted ceilings adorned with wood beams and reclaimed wood floors.
The colour palette is warm with an off-white backdrop, soft rusty tones and stone tiles, accessorised with natural fabrics, leather or fur.
Main characteristics:
Natural
Organic
Warm
Comfortable
Country
Materials:
Wood in all finishes and colours
Brick walls and stone flooring
Terracotta Tiles
Colours palettes:
Off white and beiges
Mediterranean colours
Neutral and complimentary
Know Brands & Retailers:
________  ❧ ________
Reflects a more relaxed attitude and lifestyle, preferably in the middle of a tropical forest.
Bohemian interiors uses a mismatched array of items found in widely varied sources including flea markets international travels.
Most often seen with an excessive amount of plants and globally inspired textiles and rugs.
Materials:
Rag-rugs
Travel mementos
African and Moroccan fabrics and ornaments
Indoor plants
Colours Palettes:
Multi-colour
Everything goes
Often includes pattern clashing
Know Brands & Retailers:
________  ❧ ________
More is more, opulent and extravagant, full of drama and excess, uses highly contrasting palettes, very often in darker colours. Ambiance lighting, sumptuous rich fabrics in velvet and silk.
Shiny metallics and mirrors create a dramatic and stylish interior that's sure to impress.
It's a dramatic design style, perfect for a homeowner who enjoys making a statement.
Main adjectives:
Over the top
Glamorous
Extravagant
Luxurious
Materials:
Gloss and mirrored finishes
Silk & Satin Fabrics
Brass & copper fixtures
Colours palettes:
Dark on dark
Highly contrasting colour schemes
Use of strong accent colours
Brass and copper
Know Brands & Retailers:
________  ❧ ________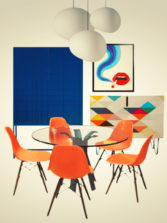 Pop Art as an art movement was first created to emphasise the banal or kitschy elements of everyday culture. Joyful and ironic, uses primary colours and the reduction of complex forms to simpler geometrics to represent a caricature of the world.
Its final intention is to connect with the younger self and make them rethink life with a smile.
Materials:
Plastics
Man-made shine materials
Any material that does not look natural
Colours palettes:
Colour block patterns
Neons & super bright colours
Primary colours
Know Brands & Retailers:
________  ❧ ________