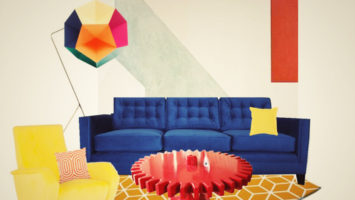 Lookbook
Pop Art Statement Decor
Pop art interior design is humorous and provocative. This vibrant and youthful decor style will create a dynamic vibe in your living room, full of mid-century modern pieces and striking accent furniture, here is our products list for a unique, extraordinary and bold interior decor. Definitely not for the "beige" people.
Colour block "in" color crashing, add an exciting geometric pattern in the form of a retro backdrop with murals from
When we say Pop Art, we really mean it, the color scheme should be bright and clashing, colour block is a must, here our main colours are navy blue, mellow yellow and orange.
Some details that definitely make you strike the correct cord:
Colour block
Neon lighting signage
Optical illusions in art work and furniture
Glossy, man-made finishes, like lacquered furniture and plastic chairs.
Exciting geometric patterns
Bold and super extravagant artwork.
Choose a striking sofa in petrol blue, preferably in velvet for top glamour and remember, furniture should be a stand alone piece on its own!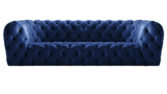 Modern Leather Chesterfield Navy
£8,299.99
Use bold and super extravagant artwork, besides, we will always favour some sexy paintings and prints…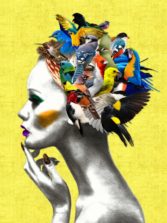 Bird Girl Print
£220.00
By Ellie Vandoorne, limited edition print in a mixed media piece using pencil and collage.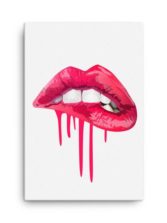 Print Art Lips
by Rosefield Studio
£44.00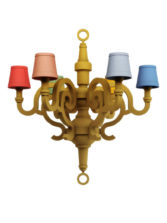 The main accent could also be a stylish design element, like this chandelier by MOOOI which makes any interior extraordinary.
Patchwork Chandelier
£3,431.38
In the pop art interior the boldness is not only on paintings but also on stylish design elements, furniture that highlights the geometric lines, like this one by The Old Art Studio are ideal.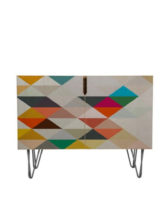 Deny Designs Cabinet
£814.07
People who appreciate pop art interior decor are bright, creative and original, young bohemians who are not afraid of express themselves and have a keen sense of humor. We hope this post inspires you not to settle for beige…